"Surely Someday" la película que marca el debut como director de Oguri Shun ha sido elegida para abrir el Festival Internacional de Cine Yubari. El festival, que celebra su 20º aniversario, se llevará a cabo desde el 25 de febrero hasta 1 de Marzo en Yubari, Hokkaido. La presentación de "Surely Someday" tendrá su premiere mundial en el festival, mientras que podrá encontrarse en los cines a partir del 17 de julio. El film está protagonizado por Koide Keisuke, Katsuji Ryo, Ayano Go, Suzuki Ryohei, Muro Tsuyoshi y Konishi Manami.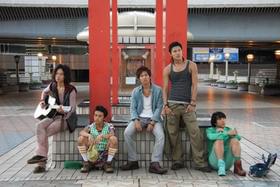 La nueva versión digital de la obra maestra "The Yelloww Handkerchief", de Yamada Yoji también será presentada en el festival y el remake norteamericano tendrá su premiere el mismo día. El cierre del festival será para "Sherlock Holmes", de Guy Ritchie.
Otras películas que podrán disfrutarse durante el festival serán "Bushido Sixteen," "Kokou no Mesu," y "Sweet Little Lies". Films extranjeros incluyen "Green Zone," "The Hurt Locker," y "The Princess and the Frog".
Trailer: